Naples' Cardiovascular Fitness
Naples' Personal Fitness Solutions
Come to our 7PM Cardio Challenge Group before Strength Training Workout! Call us today for information about our various fitness programs!
If you're tired of trying to lose weight by yourself and you've been in search of an effective weight loss program, Ideal Fitness and Weight Loss of Naples is here to lend you a helping hand. We are a weight loss center that offers cardiovascular training, as well as strength training. Cardiovascular fitness is the most effective method of burning calories while improving the function of the cardiopulmonary system. Because this is the most effective method of burning calories, this means it is also the most effective way to lose weight. We recommend performing cardio exercises at least three times a week for weight loss as well as improving general health. For clients with diabetes, cardiovascular exercise increases the muscle's ability to utilize glucose and they tend to have better control of their blood sugar.
Benefits of cardiovascular exercise:
*Results may vary.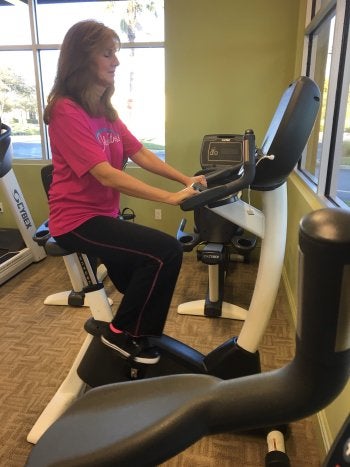 Improved heart health
Improved hormonal profile
Increased metabolism
Improved recovery ability
Many people say that exercise makes them happy, and this rings true with scientific evidence. Exercise releases endorphins, which are natural hormones that give you the feeling of happiness. Not only will cardiovascular exercise improve your physical health, but it can improve your mental health as well.
Take Control of Your Health
Often, the weight loss journey is tough, especially if you try to do it yourself. When you want to get your personal fitness sorted out, Ideal Fitness and Weight Loss has everything you need in order to get fit. We are a fat loss center that can offer you a personal training program as well as a custom diet plan. With these two factors combined together, you'll be able to see the pounds melt off your body, right before your very eyes. We've had years of experience helping people with personal fitness training, so we know all the right tips and tricks to get those stubborn love handles to go away.
When you join Ideal Fitness and Weight Loss, it's a lifestyle change, not just a diet. Not only can we help you lose excess weight, but we can help you keep it off and train your body to be stronger. After you've been through our strength training program, you look and feel a lot stronger than before. By keeping with the workouts and diet plans we set out for you, can be set for life with the necessary knowledge for keeping yourself healthy and happy.
Amazing Technology
Ideal Fitness & Weight Loss Center is equipped with the industry-leading Cybex® treadmills that maximize the effect of cardiovascular fitness while minimizing stress on joints by absorbing shock like a great running sneaker. We also have upper and lower body Arc® trainers, recumbent and upright bikes for diversity in your exercise plan. Our members also have use of personal tablets for their entertainment value while using the cardiovascular equipment as a fun distraction. Schedule an appointment with our fitness coaches in Naples by calling us at (239) 272-3226. *Results may vary.
Get in better shape now: 239-272-3226